e-mail : cmct@chiangmai-online.com
[Chiang Mai Carnival Tour T.A.T. LICENSE 23-0137 chiangmai-carnival.com]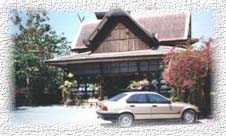 Parked in front of a shop selling silverware.
The largest and most popular of the local handicraft factories are situated along a 13 km stretch of the Chiang Mai - Sankampaeng Road. Both sides of the road are lined with factories and showrooms where you have the opportunity to observe the craftsmen and women at work and purchase their fine products.
The factories manufacture and sell various types of handicrafts including:
Tour programmes by:
Chiang Mai Carnival Tour LTD Part.
T.A.T. LICENSE 23-0137
chiangmai-carnival.com



Joint Tour(*) (FREE) Private Tour(**)
N.of Adult(s): Child(ren):
Date:
Time: Morning Afternoon



(*)Transportation by air-con. minibus
(**)Transportation by air-con. car

The art of making lacquerware is a 400 year old Chiang Mai and Thai tradition. Lacquerware is entirely handmade. Lac Resin is produced by insects from sap taken from fig trees. The exquisite oriental designs on the flawless glossy black surface are made entirely by hand. The world renowned Thai lacquerware can be decorated in paint, gold leaf, egg-shell or simply engraved.
Chiang Mai offers a wide selection of modern and antique silverware. The city is a prime source of such objets d'art because generations of artisans have made their homes here. Chiang Mai's laid back atmosphere has brought together many ethnic groups, each with its own distinctive style, providing you with a wide range of beautiful artifacts to choose from. The majority of the best silver works are situated along the Chiang Mai - Sankampeang Road. Here you will find delicately patterned silverware from Thailand, Laos and Burma along with antique and modern hilltribe jewelry.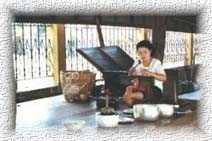 Both silver coins and pure silver ingots (smelted in a furnace) are beaten out by hand into the desired style or shape. Months of patient effort go into these delicate and intricade designs.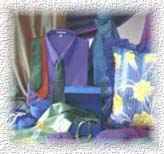 Although modern technology had been introduced, Chiang Mai silk remains a timeless expression of the craftsman's skill. From reeling the gossamer silk filaments from the cocoon, through the dyeing process, to weaving the filaments into a myriad of shimmering forms, nothing can replace the sure hands and eyes of the experienced craftsman in revealing the luminous beauty of genuine Thai Silk.
Chiang Mai is the centre of Thailand's ceramics industry. Among it most prized items is the distinctive Celadon pottery, so named for its unique glaze, the result of certain ingredients mixed with wood and ashes applied in a carefully controlled step by step process. The clay is first treated with additives which are then let in the shade and thrown. After bisque firing at a temperature of 800 C, the glaze is applied. The piece is then placed in the kiln for a second firing at a temperature of 1,250 C, which gives it its inimitable, finely cracked finish.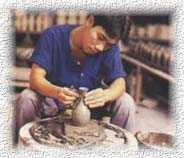 Skill and experience on the part of the craftsman are paramount for the process. Producing Celadon requires a great deal of time, care and concentration.
Your tour along the Sankampaeng Road will have convinced you that Thai craftsmen are exceptionally gifted. They have also become experts in the art of making refined and elegant jewelry. Their expertise in cutting, polishing and setting gems is recognized world wide.
If you are looking for truly beautiful jewelry or just single gem stones, the Sankampaeng Road is the place to go. Here you will find an assortment of glorious sapphires, diamonds, emeralds and Siamese rubies set in a multitude of different settings including necklaces, earrings, rings and bangles all created by local artists.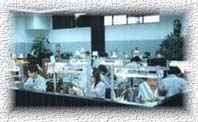 All stones are quality certified.
Shopping in well lighted and charming showrooms.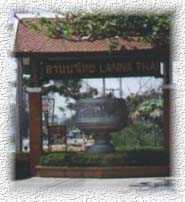 A remarkable piece of silver work at the entry to a shop.
Farther along the road is Bor Sang - the world famous village which sells cotton umbrellas and paper parasols handpainted in wide varieties of floral and animals designs.
Bor Sang (which translates into umbrella) was once a tiny village where generations of families engaged in umbrella and parasol making, labouring beneath their raised teak houses to craft bamboo, string and sah paper (made from the bark of the mulberry tree) into marvels of engineering. Today, the production has become an industry but the umbrellas are still made by hand and tourists from all around the world make a stop here to admire and buy the crafts.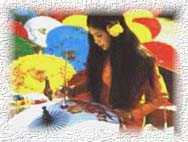 In cottage industries, young women manufacture silk umbrellas and sah paper parasols.
After the visit to the umbrella centre, shopping along the street is time well spent because the choice of styles and colors among the shops is quite vast. Among the expected inventories of parasols and umbrellas you will find attractive clothing and other nice souvenirs.
Hot Springs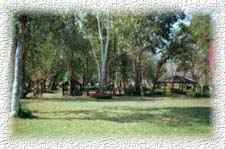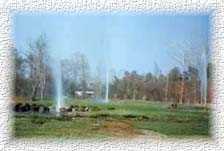 For lunch, you can head for delicious Thai food or just a cool drink in the beautiful garden at Baan Suan Restaurant. The hot springs boil continously and emit a strong smell of sulphur. You can also enjoy watching the thermal geysers rising inside the beautifuly landscaped flower gardens within the park area.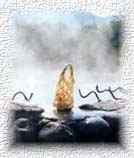 e-mail : cmct@chiangmai-online.com
[Chiang Mai Carnival Tour T.A.T. LICENSE 23-0137 chiangmai-carnival.com]
chiangmai,chiang,thailand,travel,tour,northern thailand,hotel,rafting,hilltribe,golden triangle,elephant,temple,car rent,doi suthep,chiangmai,chiang,thailand,travel,tour,northern thailand,hotel,rafting,hilltribe,golden triangle,elephant,temple,car rent,doi suthep,chiangmai,chiang,thailand,travel,tour,northern thailand,hotel,rafting,hilltribe,golden triangle,elephant,temple,car rent